Social Rumbles
The next big social media network, for kids and adults. View tommorow's trends and controversy today. Our content is made by people, for people. Posts made right now in ! Join them today!
Works On All Devices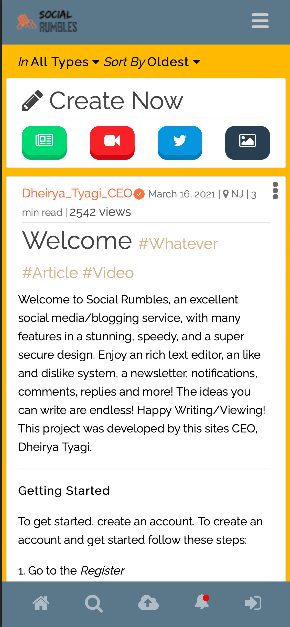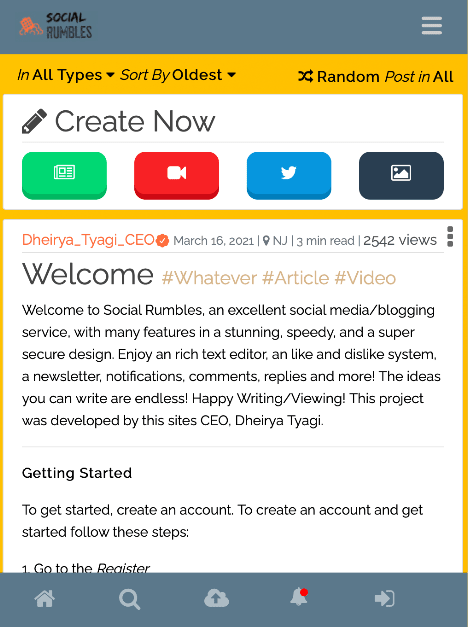 Beating The Competitors...
Amazingly Secure
Our site does not use any third-party tracking services, such as Google Adsense, Double Click, Tagman, etc. Our site is committed to providing a safe and pleasant experience to our users, which is why we have no ads or third-party extensions.
Ridiculously Fast
Many sites bloat there own site with ads, making the user experience painfully slow to say the least. We recognized this problem, and in the end, decided not to have any advertising. This makes our site ridiculously fast, and secure for our users.
Safe For Kids
This site was made with kids safety in mind, and because of this mindset we have, we decided to add an advanced text censorship algorithm, a 24/7 human monitoring system, age validation for some users, and more! We respect our users, no matter what age they might be.
Wholesome Content
Remember the days of Vine and Myspace, when users could upload content without getting horrible backlash. Or when people could safely just share content without getting instantly ashamed and criticized. This is what our service is, a safe place to share.
No Unsecure Ads
Most sites and social media networks use backdoors and third party cookies to access info about you from other sites. This is not good at all for the user, especially there privacy. This site has none of that insecurity, we believe here your info is yours to keep.
Always Free
This site was never designed to earn money. No, this site was designed to get social media, well social again! We just want people to be safe, and we want to inspire others to stand up to big companies who are doing the wrong thing. This is why, it is all free for our users.
Free For All
Our site is free for all, no matter what you do. Since this network was designed with kids in mind, we will NEVER allow transactions while users are on this network.
What you will get...
Unlimited Upload Storage

Access To Many Features

Unlimited Posts

Safe and Secure Viewing

No Ads
Still not convinced on joining?